"I wanted to revive here my old workshop in Ioannina in 1971 which I had made in my old paternal home. Not that I had the pleasure of working in a steady environment for long. Many pieces of work and workshops I ruined and changed owing to either lack of space or lack of money.
In this composition there is me in standing position making the clay model in natural size. It is not as difficult as it seems. Three mirrors, months of work and perfect knowledge of classical sculpture. When it is ready, I cast gypsum over it and separate the resulting mould into two pieces. You can see one of these moulds lying under the clay model. Within I cast wax, paying extra attention to cover the whole surface uniformly. The wax models are hollow on the inside which enables them to 'breathe' better. I preferred to use wax as it looks more like the human skin and is semi-transparent to a degree. It is generally easy to use, although there are some traps involved when it comes to its quality and more importantly to its color which is different when it is melt and when it is set. I worked alone without the help of an apprentice or assistant. The anxiety is great, for some endeavors do not come off; the exhaustion is terrible too, since each plaster mould weighs some dozens pounds. The work of a sculptor can be done with other materials as well; for a plaster model to be made, which will be sent to partners or foundries, I soap the interior to prevent it from sticking and add plaster little by little. This is why I display the plaster busts on your left. To me, this is a valuable heritage, as the quality of my work is evident, even though a different material is used, a material with other advantages, longevity and endurance.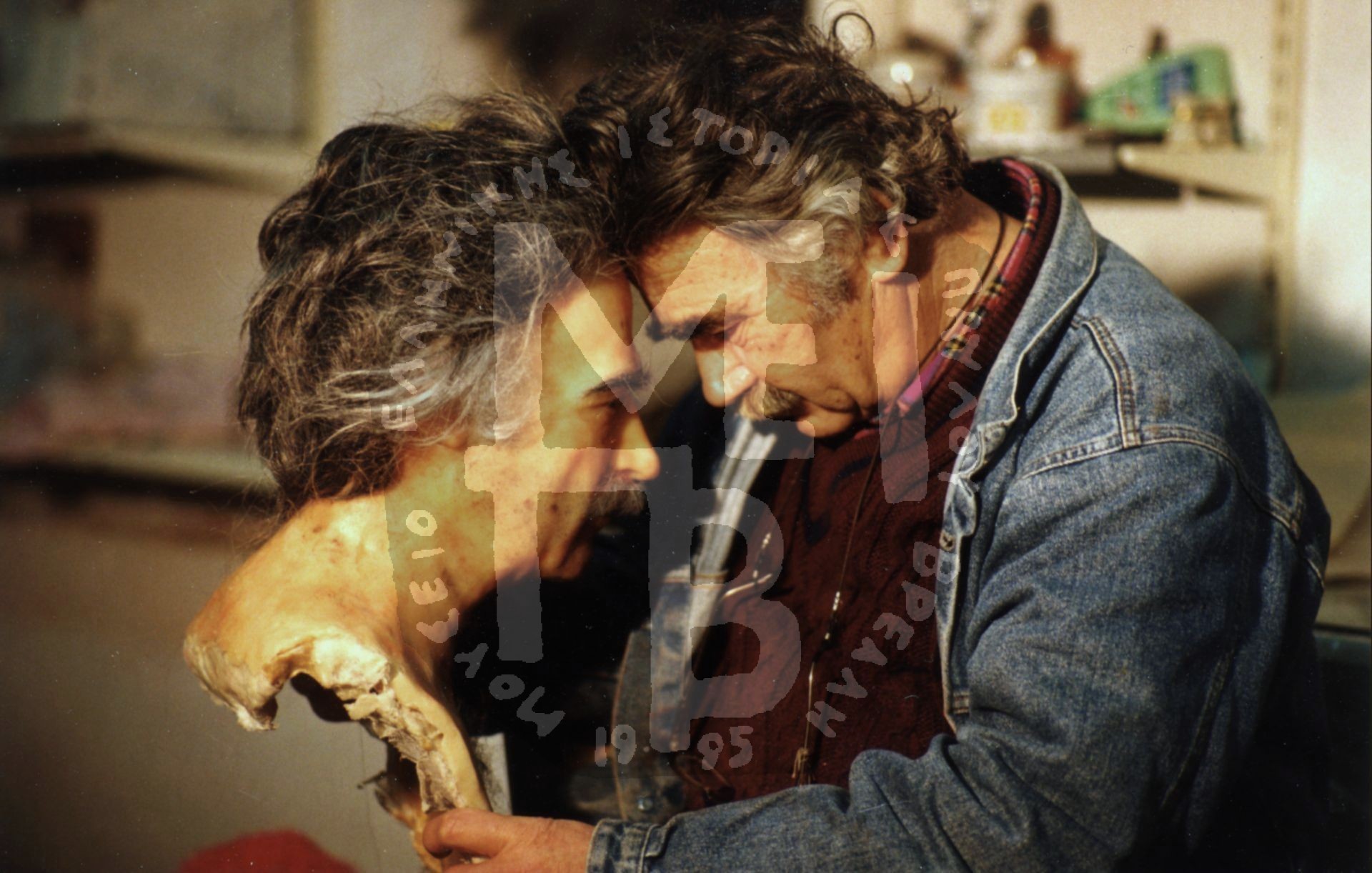 The director of Zosimea Pedagogic Academy once invited me to meet his eminence the metropolitan Bishop of Ioannina and later Athens Archbishop, Spyridon Vlachos. It was in 1947, before I got in the School of Fine Arts. The Bishop himself commissioned me to make his portrait and his confidence in me will always honor me.
In the foreground, we see objects we have encountered during the tour in the museum. Several clay fruit and temperas, a flintlock, tsarouhia (moccasin) from gauze and plaster, pieces of clothes and costumes, book spines from the room 'Teachers of the Nation', wooden engravings, grass and several of the materials I use.
In the background, apart from anatomic aid models and materials, there is a model from the time I was at the School of Fine Arts, my work on the 'Dodoni Eagle', symbol of the University of Ioannina, water paintings and charcoal pieces of work (mainly studies).
A series of Tanagrea of abstractive style are laid on the small eaves of the attic."